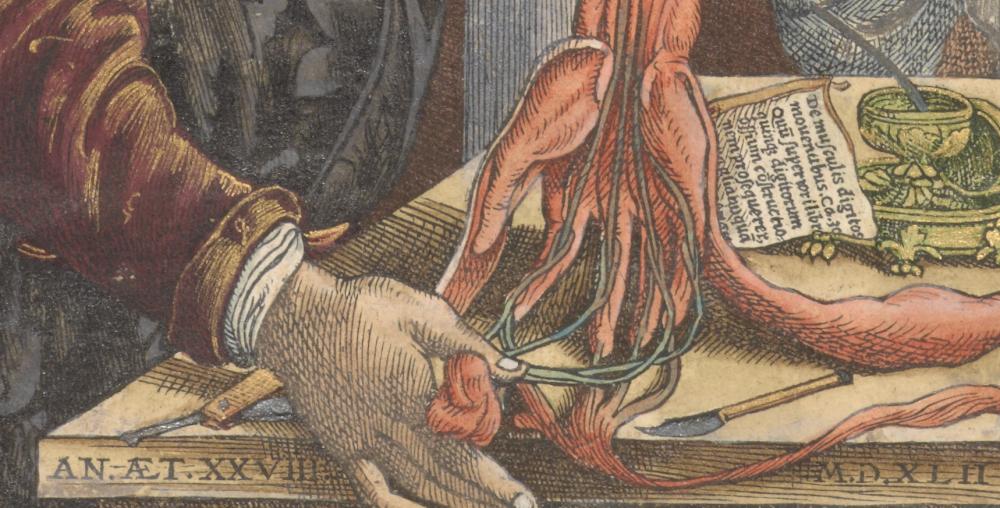 Behind the Scenes
Contributors to Vivitur ingenio
The exhibition was curated by Sachiko Kusukawa, with help and advice from Andrew Cunningham, Emily Dourish, Peter Jones, Rob Ralley and Jill Whitelock.
Błażej Mikuła created the images and the film for this exhibition.
The patient help from the staff of the Rare Books and Manuscripts departments of Cambridge University Library was fundamental in the preparation of this exhibition.
I am grateful to the following institutions for the use of images in their collections:
Gonville and Caius College, Cambridge
The Metropolitan Museum, New York, USA
National Library, Sweden
Nationalmuseum, Sweden
Trinity College, Cambridge
The following works were consulted for this exhibition:
Vesalius, Andreas. An Annotated Translation of the 1543 and 1555 Editions of "De Humani Corporis Fabrica Libri Septem". Trans. Garrison, D.H. and M.H. Hast. 2 vols. Basel: Karger, 2014.
Vesalius, Andreas. On the Fabric of the Human Body: A translation of de humani corporis fabrica libri septem. Trans. Richardson, William Frank and John Burd Carman. 5 vols. San Francisco: Norman, 1998-2009.
Vesalius, Andreas. Résumé de ses livres sur la fabrique du corps humain, text and translation by Jacqueline Vons, introduction, notes and commentary by Jacqueline Vons and Stéphane Velut, Paris: Les Belles Lettres, 2008, this supersedes the translation by L. R. Lind, The epitome of Andreas Vesalius (Cambridge, MA.: MIT Press, 1969, originally published in New York: Macmillan, 1949).
Vesalius, Andreas. Andreas Vesalius Bruxellensis: the bloodletting letter of 1539: an annotated translation and study of the evolution of Vesalius's scientific development. Eds. Saunders, J. B. de C. M. and C. Donald O'Malley. London: W. Heinemann, 1948.
Binski, Paul, and Stella Panayotova, eds. The Cambridge illuminations: ten centuries of book production in the medieval West. London: Harvey Miller, 2005.
Bury, Michael. The print in Italy 1550-1620. London: British Museum, 2001.
Carlino, Andrea. Paper bodies : a catalogue of anatomical fugitive sheets, 1538-1687. Trans. Arikha, Noga. Medical history. Supplement ; no. 19. London: Wellcome Institute for the History of Medicine, 1999.
Cunningham, Andrew. The anatomical Renaissance: the resurrection of the anatomical projects of the ancients. Aldershot ; Brookfield, Vermont: Scolar Press, 1997.
Gillispie, Charles Coulston, Frederic Lawrence Holmes, and Noretta Koertge, eds. <em>New dictionary of scientific biography.</em> 25 vols. Detroit, Mich.: Charles Scribner's Sons, 2008 (Gale Virtual Reference Library).
Jones, Peter Murray. "Thomas Lorkyn's dissections, 1564/5 and 1566/7." Transactions of the Cambridge Bibliographical Society 9 (1988): 209-29.
Jones, Peter Murray. Medieval Medicine in Illuminated Manuscripts. London: British Library, 1998.
Kusukawa, Sachiko. Picturing the book of nature: image, text, and argument in sixteenth-century human anatomy and medical botany. Chicago: University of Chicago Press, 2012.
Lambert, Samuel W., Willy Wiegand, and Ivins William W. Jr, eds. Three Vesalian Essays to Accompany the Icones Anatomicae of 1934. New York: MacMillan, 1952.
Oxford (Grove) Art Online Oxford: Oxford University Press, 2007-2014.
Park, Katherine. Secrets of Women: Gender, Generation, and the Origins of Human Dissection. New York: Zone, 2006.
Siraisi, Nancy G. Late Medieval and Early Renaissance medicine. Chicago: University of Chicago Press, 1990.
Svenberg, Torgny, and Peter Murray Jones, eds. De Arte Phisicali et de Chirurgia by John Arderne. Stockholm: Hagströmerbiblioteket, 2014.