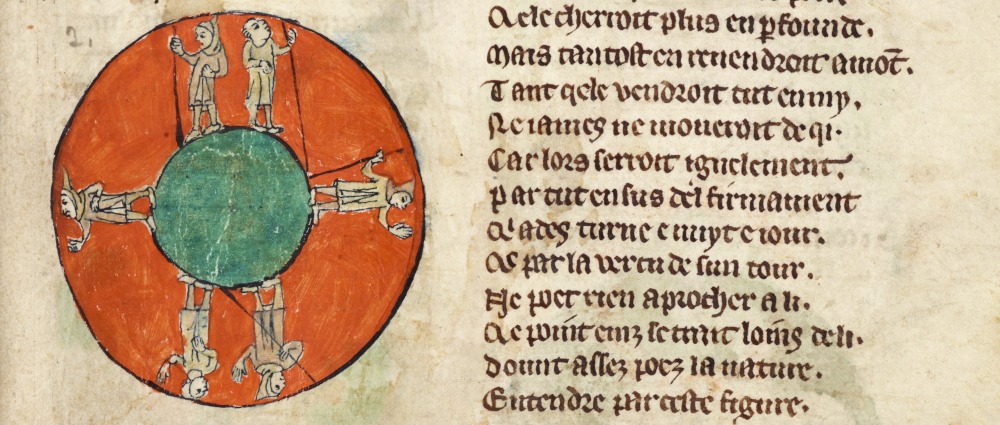 Behind the Scenes
Contributors to The moving word
'The moving word: French medieval manuscripts in Cambridge' is a product of a collaboration between the AHRC-funded research project 'Medieval Francophone Literary Culture Outside France' (MFLCOF) and Cambridge University Library.

MFLCOF is a three-year research project based at King 's College London, the University of Cambridge, and University College London and directed by Professor Simon Gaunt with the collaboration of Professor Bill Burgwinkle (Cambridge), Dr Jane Gilbert (UCL), Dr Paul Vetch (KCL), Dr Nicola Morato (Cambridge and Liège), Dr Dirk Schoenaers (UCL) and David Murray (KCL). It is generously supported by an Arts and Humanities Research Council research grant.
twitter.com/MFLCOF
This exhibition was curated by an international research group, mainly composed of postgraduate and post-doctoral scholars: Tim Atkin, James Bloxam, Dr Sara Harris, David Murray, Dr Natalia Petrovskaia, Helena Phillips-Robins, Maria Teresa Rachetta, Kristine Rose, Alex Stuart and Shaun Thompson, and coordinated by Professor Bill Burgwinkle and Dr Nicola Morato.
We are grateful to the Fitzwilliam Museum, Peterhouse, and Christ 's, Corpus Christi, King 's, St John 's and Trinity Colleges, Cambridge, for loans to the exhibition; to Rory O 'Bryen for his photography; to Błażej Mikuła for work on the videos; and to the Fondazione E. Franceschini – Archivio G. Contini in Florence for their help in providing images for the Roman de la rose section of the exhibition website.